Welcome to the David Gemmell Wiki!
The David Gemmell Wiki is a free and collaborative encyclopaedia of the work of fantasy author David Gemmell. It is not official in any way, but is edited and maintained by a community of dedicated fans working together to create an online repository of all things Gemmell. Although the project is still in its infant stages, we already have over 180 articles and 152 images, and new content is being added all the time.
Help us out by creating a page about your favourite book or character, or check if it already exists!
About David Gemmell Wiki • Sign up • Recent contributions • List of active users • Manual of style • To-do list
New to wikis? Check out this guide to editing!
About the Author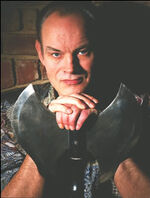 David Gemmell (1948-2006) was a bestselling British fantasy author. A former journalist and newspaper editor from west London, Gemmell published his debut novel, Legend, in 1984. The work quickly became a classic, and he went on to write over thirty novels. Receiving both commercial and critical acclaim, Gemmell's novels characteristically feature morally grey heroes, fast-paced action sequences and strong themes of honour, courage and redemption. He is widely regarded as one of the finest writers of heroic fantasy. Gemmell died of coronary artery disease while working on Fall of Kings in his home near Hastings in 2006. The novel was completed by his wife Stella Gemmell and published posthumously. Read more...

Gemmell Books
Stand-alone fantasy novels
Crime thrillers
Gemmell Quote
"Nothing of real worth can ever be bought. Love, friendship, honor, valor, respect. All these things have to be earned."
―Kalliades (Shield of Thunder, ch.11)
Gemmell Artwork
"Dros Delnoch the Fortress"
by Didier Graffet
Recent Edits
Ad blocker interference detected!
Wikia is a free-to-use site that makes money from advertising. We have a modified experience for viewers using ad blockers

Wikia is not accessible if you've made further modifications. Remove the custom ad blocker rule(s) and the page will load as expected.