Welcome to the David Gemmell Wiki!
The David Gemmell Wiki is a free and collaborative encyclopaedia of the work of fantasy author David Gemmell. It is not official in any way, but is edited and maintained by a community of dedicated fans working together to create an online repository of all things Gemmell. Although the project is still in its infant stages, we already have over 180 articles and 152 images, and new content is being added all the time.
Help us out by creating a page about your favourite book or character, or check if it already exists!
About David Gemmell Wiki • Sign up • Recent contributions • List of active users • Manual of style • To-do list
New to wikis? Check out this guide to editing!
About the Author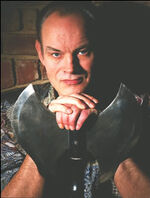 David Gemmell (1948-2006) was a bestselling British fantasy author. A former journalist and newspaper editor from west London, Gemmell published his debut novel, Legend, in 1984. The work quickly became a classic, and he went on to write over thirty novels. Receiving both commercial and critical acclaim, Gemmell's novels characteristically feature morally grey heroes, fast-paced action sequences and strong themes of honour, courage and redemption. He is widely regarded as one of the finest writers of heroic fantasy. Gemmell died of coronary artery disease while working on Fall of Kings in his home near Hastings in 2006. The novel was completed by his wife Stella Gemmell and published posthumously. Read more...

Gemmell Books
Stand-alone fantasy novels
Crime thrillers
Gemmell Quote
Conalin: "Why is that a blessing? Would not a man be happier if all his dreams came true?"
Kebra: "No, that would be awful. What would there be left to live for? Our dreams are what carry us forward. We journey from dream to dream."
―Kebra imparts some wisdom onto Conalin (Winter Warriors, ch.8)
Featured Article
Druss the Legend was a fierce Drenai warrior and hero who fought in many wars, wielding his enchanted battle-axe Snaga the Sender. His skill in battle earned him a fearsome reputation throughout the world, and he was known by many titles, including the Axeman, the Silver Slayer and Deathwalker. Read more...

Featured Fanart
"Waylander"
by Balázs Bodnár
 Featured Novel
First published in 1984, Legend is David Gemmell's debut novel and the most famous work in his Drenai series. Legend – which was retitled Against the Horde for its initial US release – depicts the Siege of Dros Delnoch, in which Druss the Legend and a small group of Drenai defenders are vastly outnumbered by an invading Nadir army led by warlord Ulric. The novel was written during a time when Gemmell thought he was dying of cancer, and the plot is a reflection of this. Legend received critical acclaim and is considered a classic in the fantasy genre. Read more...

Recent Edits
Ad blocker interference detected!
Wikia is a free-to-use site that makes money from advertising. We have a modified experience for viewers using ad blockers

Wikia is not accessible if you've made further modifications. Remove the custom ad blocker rule(s) and the page will load as expected.